Products have
reached consumers
Satisfied customers and
five-star reviews
Recommends by over
50 safety experts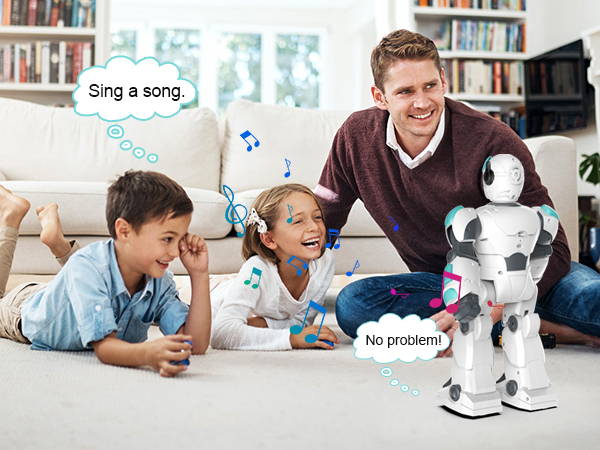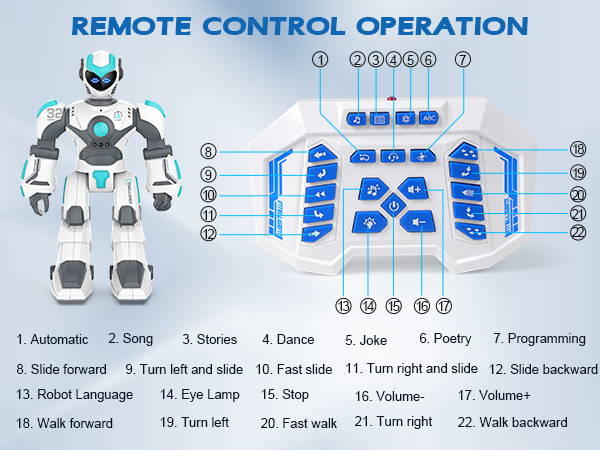 Intelligent Programmable Remote Robot - 22 kinds of functional remote control instructions, the robot can slide, walk, sing, dance, tell stories, tell jokes, recite poetry, adjust the volume, etc. You can also program the robot to do what you want it to do, and the robot will repeat what you programmed it to, and the robot will be able to record up to 30 commands.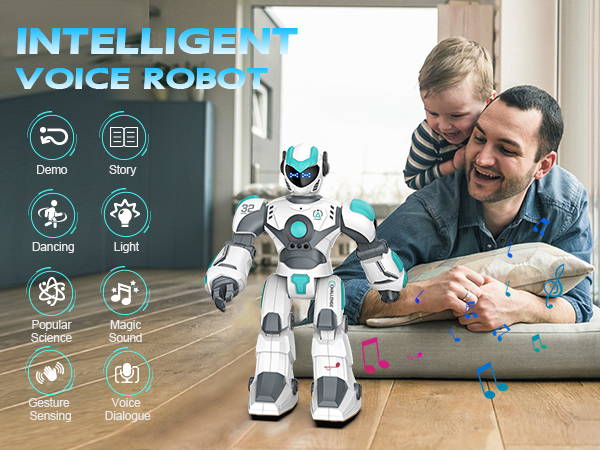 New Upgraded Version RC Robot - Upgraded voice control on the basis of remote control mode and gesture sensing control, this intelligent voice remote control robot can not only be controlled by 2.4GHz remote control, but also forward, backward, left turn, right turn gesture commands according to your needs. The most amazing thing is that this upgrade adds a voice control function, you can directly use voice control, let the robot talk to you and obey voice commands.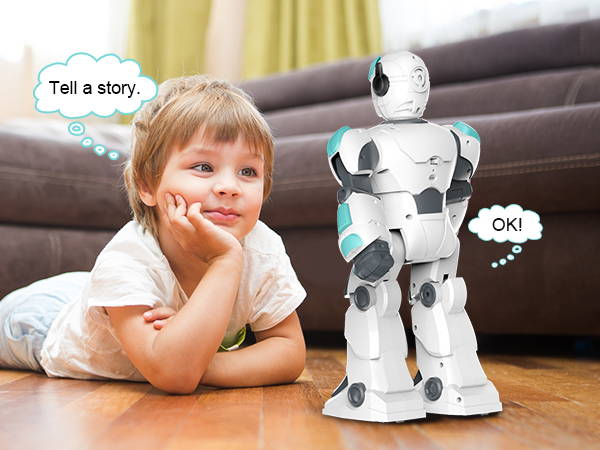 Multifunctional Large Robot - The robot is up to 15.4 inches, and the big size robot is loved by children. The remote control robot has a pair of bright LED eyes that can perform a variety of expression changes, and it will follow the changes when singing, dancing or talking, which is very interesting. The robot can also tell stories to children, tell jokes, dance with the family, can be used as a playmate when it is in operation, and can also be used as a cool decoration when it is turned off.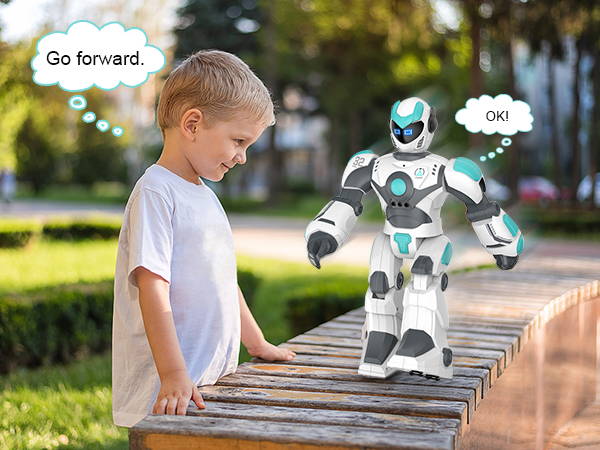 Rechargeable & Long-Lasting Battery - This remote control robot is powered by a built-in battery, which is more energy-efficient. Equipped with a USB charging cable, directly connect to a USB charging interface, such as a power bank, plug, computer, etc. Just charge the robot for about 2 hours, and its play time is about 60 minutes.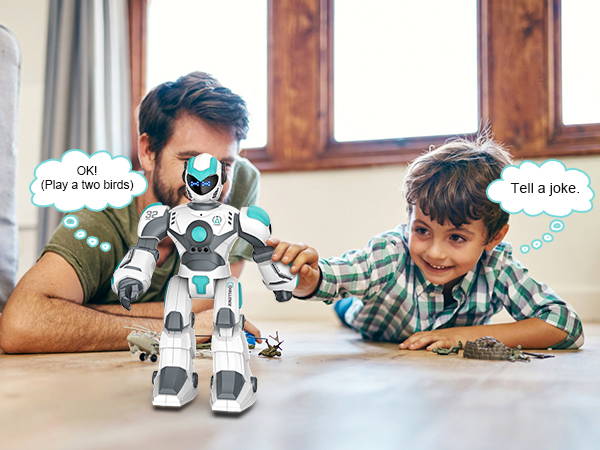 Great Partner for Children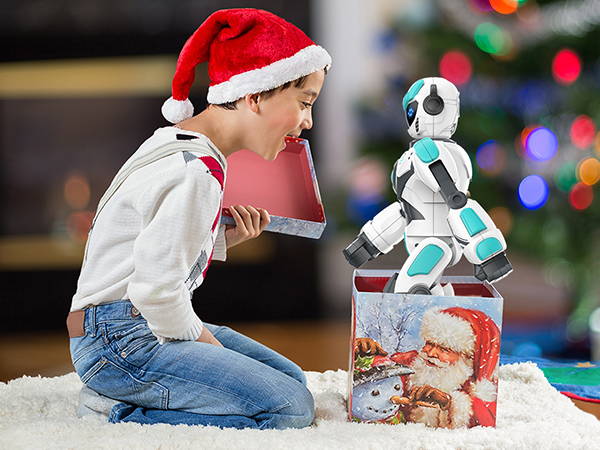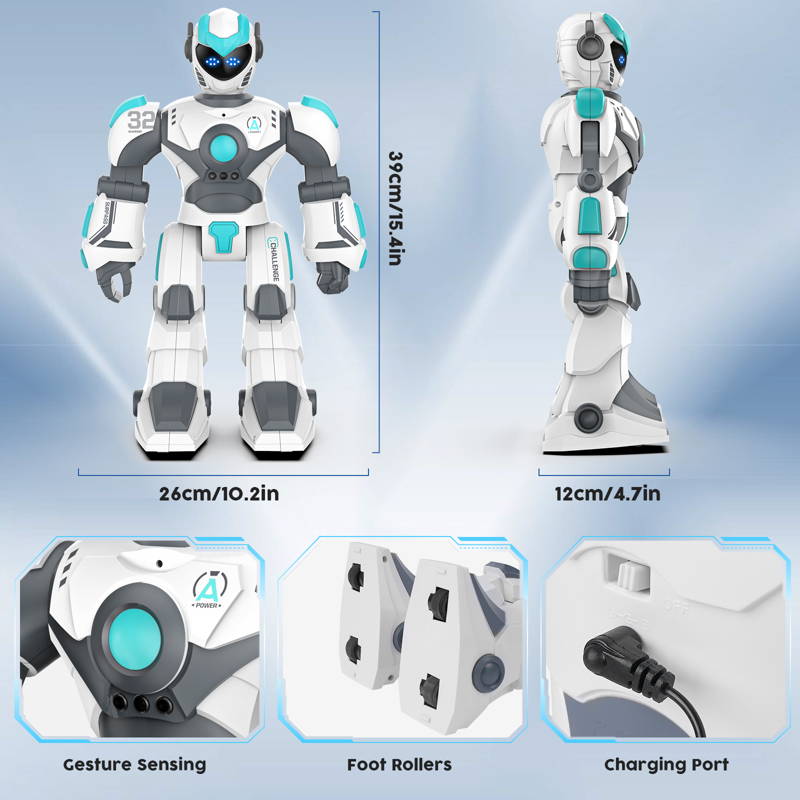 Notes:
Charging Time: About 2 hours
Playing time: 50-70 minutes(Battery Full Charged)
Robot Battery: 1x Built-in lithium battery (Included)
Remote battery: 2 x AA batteries(Not included)
Programming: 30 actions can be programmed continuously
Frequently Asked Questions
Still have questions? Send us your question by filling out the form below, we will be happy to assist you.
We will email you a shipping notice with tracking Number and let you know that your order has been dispatched from our warehouse. You can also login our website www.vatostoys.com and go to "my orders" to track the products.
What is the product's warranty?
1-year warranty period and we offer 24/7 customer service support.
All in-stock orders ship will be shipped out within 24hours on business day or shipped out within 48hours on holidays.
You will receive an order confirmation email shortly after your order has been placed. This is not your shipping notice. We will email you a second time with a shipping notice/invoice to let you know that your order has been dispatched from our warehouse.
How long will it take to receive my package?
We have local warehouse in United States、England、Germany、France、Italy and Spain. The delivery times of above areas will average between 4 to 7 business days. If it is international shipping, the delivery time will be extended.